Anyone six years and over will enjoy this funny story about a unique bunch of critters living in a Brisbane backyard pond.
On Froggy Pond is a beautifully illustrated book like no other, delighting children with songs and magical colours while gently educating them about the world's environmental issues. Other topics are dedicated to helping children build friendships, self-esteem, kindness, and learning to share and care for each other.
Children will be introduced to a hoard of insects that may not seem so scary after learning about them in the fun facts section, perfect for the budding Entomologist. There are 16 colouring-in pages for emerging artists to create their own colours. We certainly kept the parents in mind with quips and jokes for their enjoyment.
179 pages
Soft Cover
Including 16 colouring-in pages and 10 pages of fun facts.
We deliver anywhere in Australia.
For overseas delivery,  please contact us for shipping costs.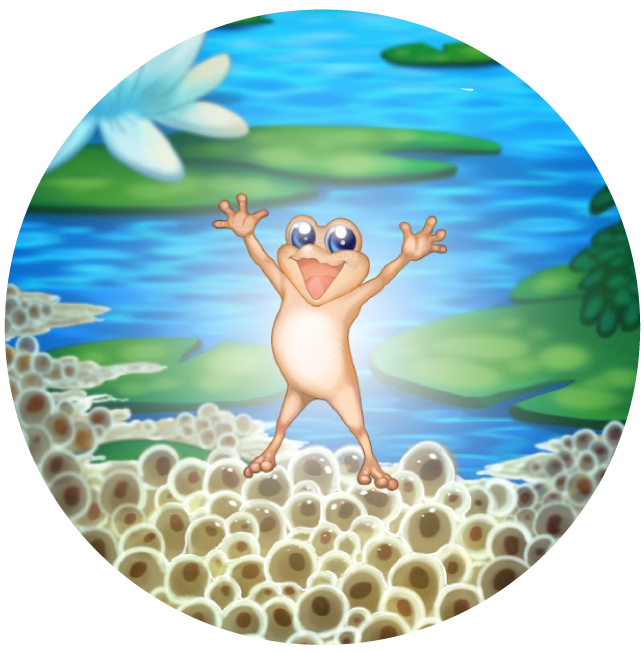 His pond friends call him Froggy, but is that his real name?
This little Naked Tree frog was discovered all alone at the pond and can't remember who he is! Now, he is on a quest to learn his real name, find his family and look for his colours, which are also missing. Oh, some teeth would help too! You see, he cannot pronounce the letter 's'; it sounds like 'th'.
You will meet his best friends, Golda and Gasper, Myron, Verity, the blueys, and Desdemona, to name a few. While living at the pond, he learns about environmental problems and the vital role frogs play in the planet's ecosystem.
Who would have thought that this tiny unsuspecting critter would be the hero of the pond? When he finds his name, can you guess what it is?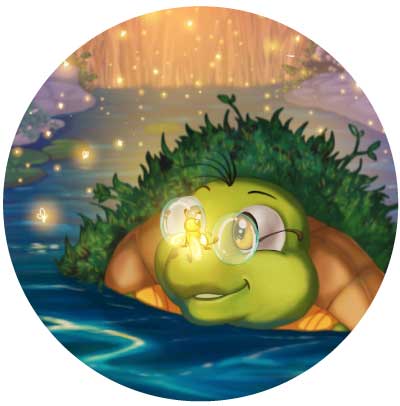 This book-loving turtle called Myron is Froggy's best friend and joins him on his adventure to find Froggy's real name.
Desdemona enjoys giving all the critters on the pond a hard time. Best not to get on the wrong side of this "Dragon" fly.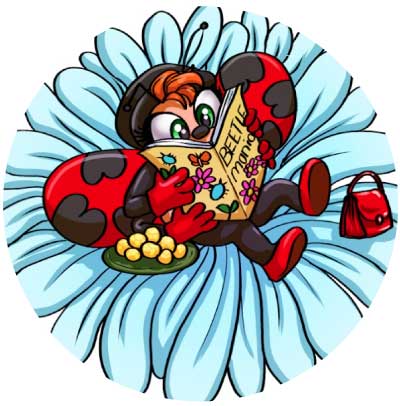 This petite Ladybug hatched in a florist in Tipperary, Ireland and found her way over to Australia in a most interesting way!
VERITY
The Irish Lady Bug
These guardians of the pond try very hard to teach humans to look after the environment.
GOLDA & GASPER
Guardians of the Pond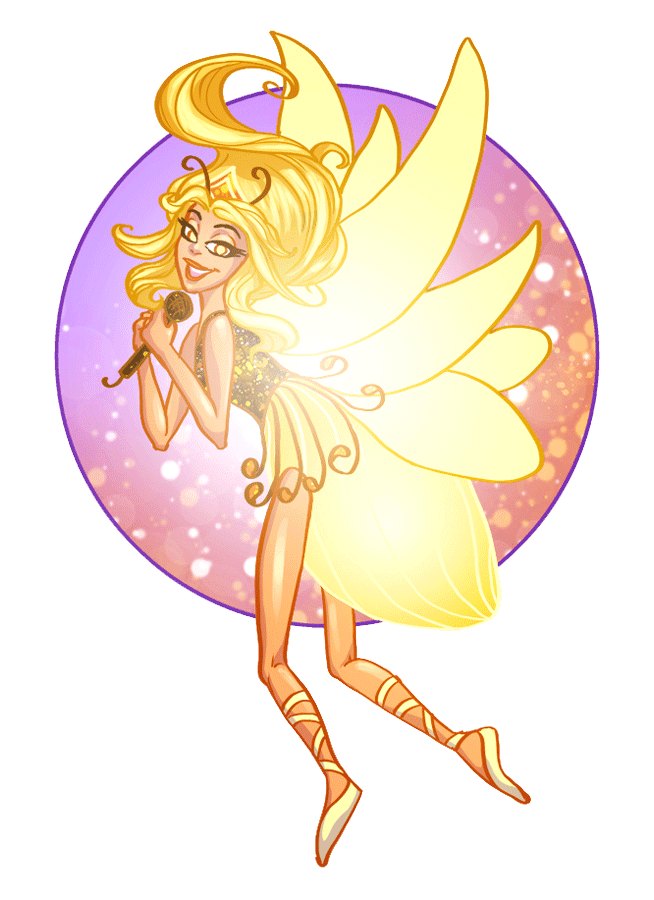 Lady Lavenore has the sweetest voice and loves to sing at the Bugsy club.
LADY LAVENORE
The Singing Firefly
Fenella is a rare Richmond Birdwing butterfly. Find out how to help these butterflies survive by growing special plants for them to eat.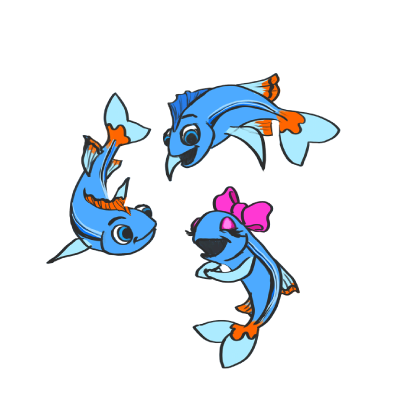 "A polliwog, you say! And a naked polliwog at that!!!!
Found in a Brisbane backyard pond … by two fearsome creatures."
Well, that's what the message read, and anyway, who's kidding who? Do we really know what critters say and think?
And what if you came across a bunch of crazy bugs, fish, and frogs living in the same pond, communicating with each other? What do you think they would talk about?
Do you wonder if they celebrate like we do and have parties, picnics, and such? If so, what do you think they would call it, a festival or a parade?
Have you ever watched these little critters in a garden and wondered, do they laugh, sing, joke, and play music? And if so, what sort of music would it be, Swamp Pop?
Imagine … if there was such a pond? And there lived a baby Naked Tree frog with a lisp, two environmental-loving goldfish, a delusional dragonfly, an Irish ladybug, a book-crazy turtle, and a bunch of other psycho critters trying to educate humans.
And imagine it was called, On Froggy Pond.
Colouring Pages and Fun Facts
179 pages
Includes 16 colouring-in pages
and 10 pages of fun facts
Have fun choosing your colours for this picture of Golda, Froggy, Myron and the three Blueys.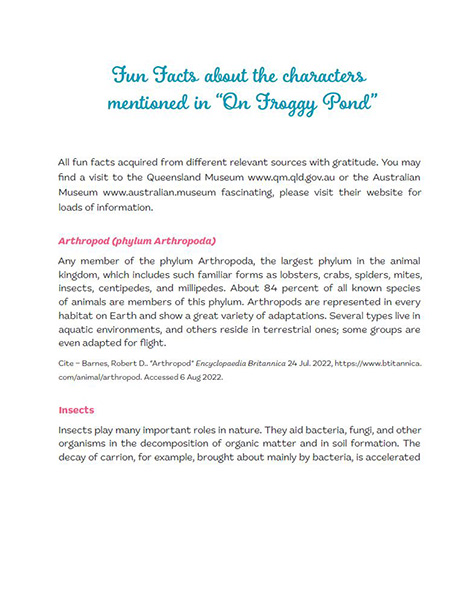 Learn exciting facts about the critters on Froggy Pond.
♫♫ Seeeee ya later alligator ♫♫
♫♫ After 'while crocodile ♫♫
♫♫ See ya later alligator ♫♫
♫♫ After 'while crocodile ♫♫
♫♫ Look at what you've done now ♫♫
♫♫ You've gone and made me smile ♫♫
Meet Lady Lavenore, the most popular firefly singer at the Bugsy Club. This sweet will-o-wisp sings to a sparkle of fireflies every night.
What is Lady Lavenore singing?
Contributions to the Book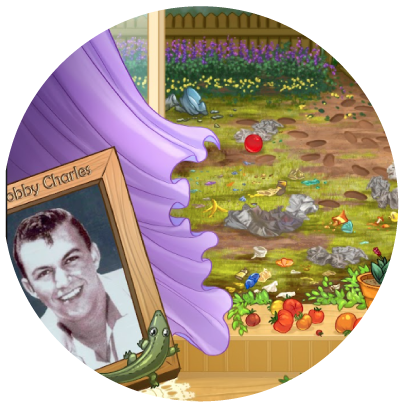 Introducing Mr Bobby Charles!
Bobby Charles is famous for his song 'See ya later Alligator, after 'while Crocodile'.
But did you know, in 1989, using his music and creative ideas, he started an education program for children worldwide, hoping they would come together and solve the problems of our planet?
He wanted children to learn about land conservation, soil and air pollution, clean water and uncontaminated oceans, and the importance of recycling. To care for each other and share the responsibilities of making our world a safe and beautiful place for every living being.
In this book, Bobby has gifted three environmental songs especially for you to sing, dance to and enjoy.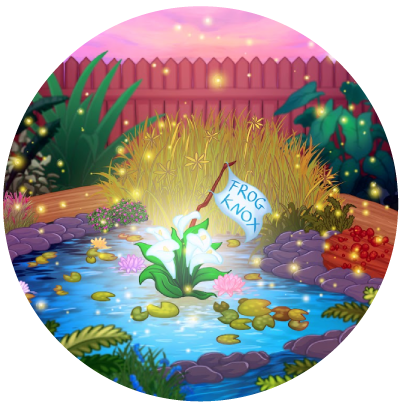 The critters on the pond hang out at Frog Knox.
Bed Bugs and Breakfast is the swankiest Bug Motel at the pond.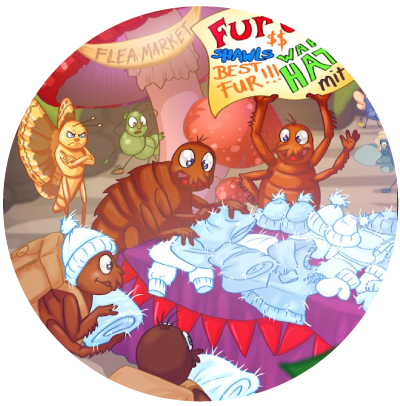 Looking for a good deal?
Head down to the Flea Market.
C.S. Fagan is based in Queensland, Australia and this is her first children's book. Her inspiration came from the realisation that very few books for children about the environment were fun and informative.
Combined with this interest in the environment and Australia's wonderful unique animals, she wrote a book that is both educational and entertaining and will delight children and adults alike.
Kathryn Whiteford is based in Victoria, Australia and this is her first time illustrating a children's book.
A professional Illustrator since the mid-2000s, Kathryn has worked with the best clients worldwide on character portraits, illustrations, fantasy-based family portraits and more.